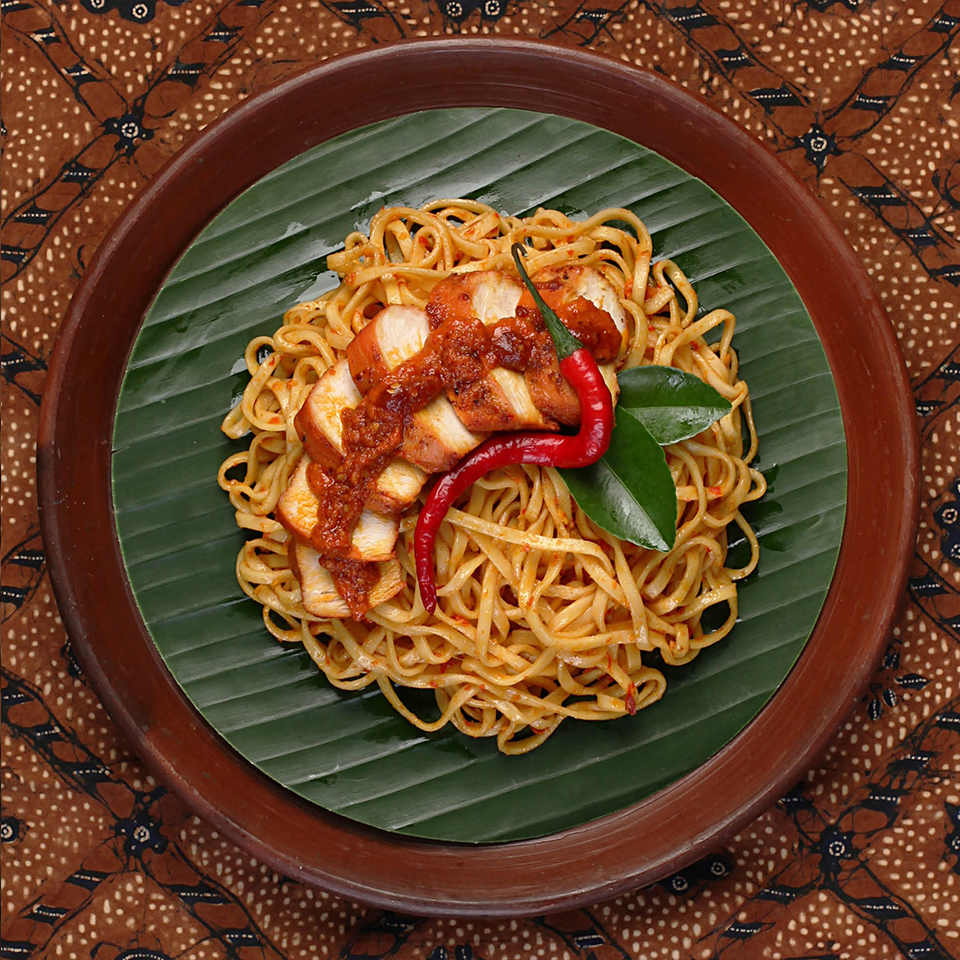 Mi Ayam Bumbu Rujak
Published on
3rd December 2018
In
Asian
|
Ingredients
2 pieces Mi Urai premium egg noodles, cooked and tossed in a little oil
2 tbsp cooking oil
1 Indian bay leaf
2 cm galangal 2 cm, bruised
1 lemongrass stem, bruised
300 g chicken breast fillet (whole)
300 ml coconut milk
25 palm sugar, crushed
2 tbs sugar
2 tbsp tamarind water (made by soaking tamarind pulp)
salt (to taste)
200 coconut cream
Spice paste:
5 shallots
2 garlic cloves
8 large red chillies
3 bird's eye chillies
3 candlenuts, toasted
½ tbsp coriander, toasted
½ cm turmeric
Instructions
1.

Blend all spice paste ingredients in a food processor until smooth.

2.

Heat the oil and stir-fry the spice paste until fragrant. Add bay leaf, galangal and lemongrass. Cook until the lemongrass is wilted.

3.

Add the chicken fillet. Stir until it changes color.

4.

Add coconut milk, palm sugar, sugar, tamarind water and salt. Cook until half the coconut milk remains.

5.

Add coconut cream, cook until the sauce starts to thicken. Remove the chicken fillet from the sauce.

6.

Grill the chicken fillet. Make sure to turn it a few times while brushing on the sauce.

7.

Add Mi Urai to the sauce and mix well. Serve with the sliced grilled chicken fillet.
Servings :

2-3

Ingredient : Chicken