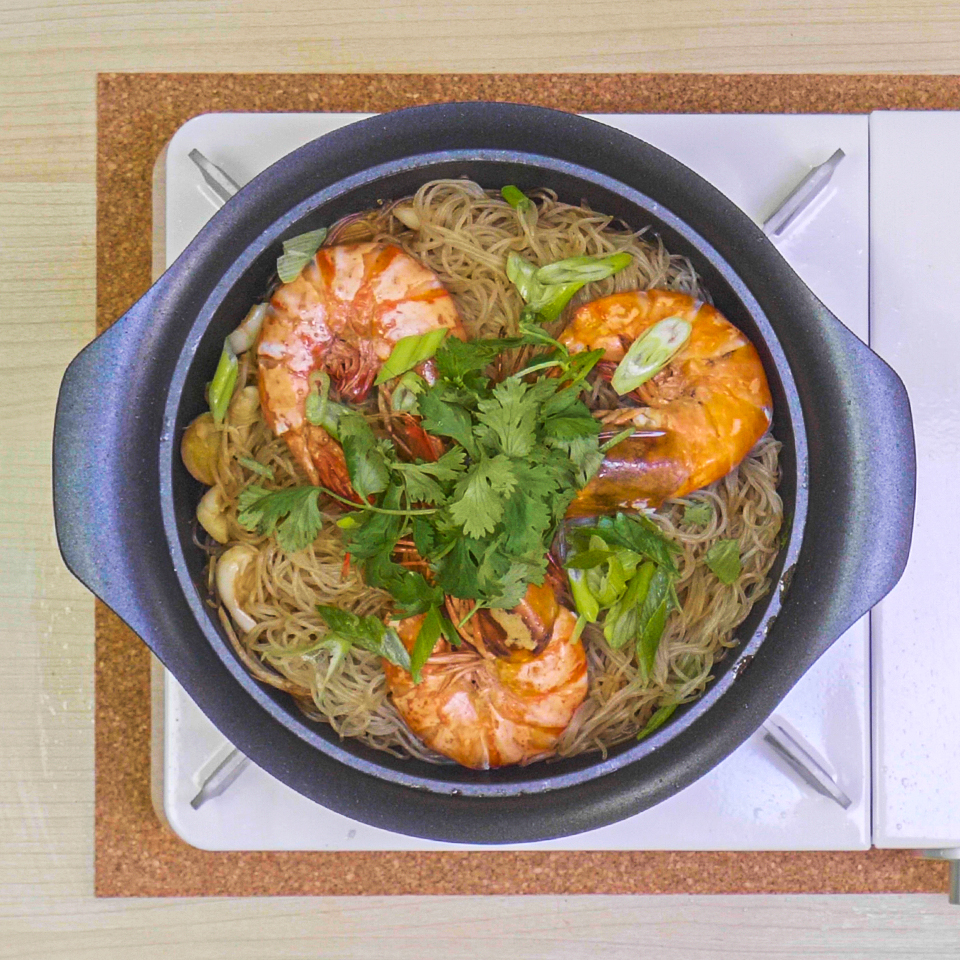 Claypot Prawn Bihun
Published on
21st July 2022
Ingredients
2 pcs Bihun Jagung URAI
3 tbsp cooking oil
250 g large tiger prawns
6 cloves garlic, crushed
1 knob ginger, sliced
3 pcs coriander root, crushed
Marinade:
300 ml chicken/seafood stock
2 tbsp light soy sauce
2 tbsp sweet soy sauce
3 tbsp oyster sauce
1 tbsp sesame oil
3 tbsp fish sauce
Garnish:
Spring onion, sliced
Coriander leaves, chopped
Instructions
1.

Cook Bihun Jagung URAI according to instructions on package. Set aside.

2.

Make marinade – Mix stock, fish sauce, oyster sauce, sweet soy sauce, light soy sauce and sesame oil. Stir well and use to marinade prawns for about 10 minutes.

3.

Remove prawns from marinade. Add Bihun Jagung URAI to marinade and mix well, set aside.

4.

Heat oil in claypot. Add prawns and sauté until they change color, remove and set aside.

5.

In the same claypot, sauté ginger, garlic, coriander root and black pepper until fragrant. Add in bihun together with marinade, stir well and cover claypot. Cook until liquid is reduced, stirring occasionally.

6.

Just before serving, add prawns and cover claypot again. Cook for a few more minutes. Garnish with spring onion and coriander leaves before serving.