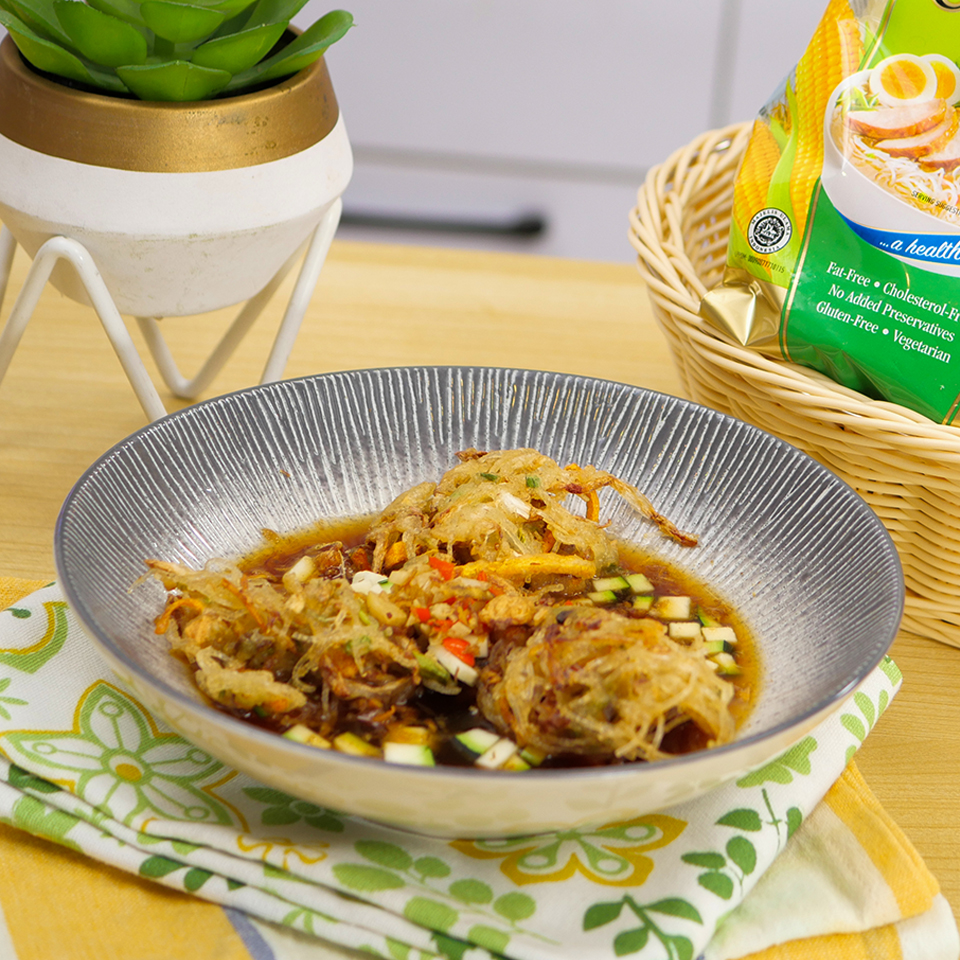 Bee Hoon Fritters with Sweet and Sour Sauce
Published on
3rd January 2023
Ingredients
1 pcs Bihun Urai, must be cut short
100 g bean sprout
100 g carrot, julienned
100 g cabbage, thinly sliced
3 cloves garlic, minced
1 stalk celery, finely chopped
1 stalk spring onion, finely chopped
1 tsp coriander powder
150 g all purpose flour
50 g rice flour
Salt and pepper to taste
½ tsp baking powder
200 ml water
Cooking oil for deepfried
Sweet and Sour Sauce:
500 ml water
150 g palm sugar
3 cloves garlic, minced
2 red chilies, deseeded and finely chopped
3 tbsp tamarind juice
1 tbsp vinegar
Salt to taste
Garnish:
Cucumber and fried shallot
Instructions
1.

Cook Bihun Urai according to instructions on pack. Set aside.

2.

In a mixing bowl, mix well all the fritter ingredients. Let it rest for about 5-10 minutes

3.

Heat cooking oil in a wok pan over medium heat, deep fried the mixture until golden and crispy, set aside

4.

For the sauce, pour water in a sauce pan and cook over medium heat. Add the rest of ingredients then bring to boil. Set aside

5.

To serve, place the fritters in a serving plate, add diced cucumber, pour the sauce and garnish with fried shallot.